In less than three years, Margaret Roth has co-founded a company, helped create a mission and identity that matters, and raised more than $1 million as part of Yet Analytics' seed round.
Roth and her co-founder, Shelly Blake-Plock, will be be appearing  at January's Startup Soiree at the Arch Social Club. They will tell the Yet Analytics startup story and discuss how they turned that company pivot into a $1.3 million seed round.
Can't make it Wednesday night? We spoke with Roth about her startup story and how Yet Analytics came to be.
"This isn't something you can do part-time"
Relentless is the word Margaret Roth uses to describe the start-up world. She's the co-founder of Yet Analytics and says understanding how relentless the work can be is key to being a successful entrepreneur.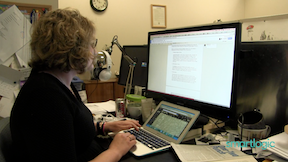 "This is isn't something you can do part-time, this isn't something where you can do 50 other things and do your company," she said. "It's something that is going to take time every single day, all the time."
She and her two co-founders acknowledge that they work very hard every day, but it's what they love and couldn't have built their company without that passion and drive.
Their company, Yet Analytics, focuses on data analytics.
"We basically make it possible to collect data from any source," said Roth from her office at the Emerging Technology Centers Eastern Campus. "Whether it's a learning system or a content management system, to really cool stuff like simulations, wearables, and virtual reality games— we take data from all of those sources, pull it into the same database in a structured format, and analyze it visually in all the same place."
This was an innovative idea, but it wasn't the first idea — or even the first company that Roth and her co-founders were involved in.
"Our team originally came together around the idea of building a social learning platform," she said. "We wanted to see how you could collect experiential data from the field and bring all of the things you're learning on mobile devices, or computers, or different types of display and bring that information together."
The problem they kept running into was that all of the data they wanted to pull from different places wouldn't work together. Finding a solution led to a new company.
"As we started to explore how you solve that data interoperability problem, we got really involved in something called the Experience API. It is essentially a data specification that makes the translation between different things possible," she said. "As we got very involved in that, we said, 'This is a way cooler problem. There are a whole lot of different applications that are out there.'"
With that new focus and the new company, Yet Analytics has raised more than $1 million and recently won the first Data Visionary Award at TechCrunch Disrupt. But that success hasn't come without hard work.
"One of the biggest challenges for us has been realizing all of the things we didn't know when we got started and figuring out how we learn them and move forward with it," Roth said. "There's a whole lot of skill sets we didn't know we needed when we got started with this, and now it's been a really amazing experience to be able to overcome those challenges by actually learning new stuff and doing it ourselves."
That learning has led to business success. While the transition was difficult, Roth said she is glad she and her team made the move to Yet Analytics.
"I really liked what we did before, but now I love what I do," she said. "I think our whole team, there's a different energy around what we're doing today and what we're going to be doing with Yet."
Want to hear more from start-up founds in Baltimore? Check out every episode of SmartLogic Studies.