Parking Panda CEO and co-founder Nick Miller had a simple goal: to make it easier for people to park. His first success was a win at Baltimore Startup Weekend in 2011. Today, less than five years later, Parking Panda is a thriving business helping people find places to park in more than 40 cities across the country.
Miller will be talking about his road to success Thursday night at Startup Grind at the Emerging Technology Centers Haven Street campus -- and we have some tickets to give away. We'll be picking winners at 3pm Thursday.
Can't make Thursday's talk? We sat down with Miller to get his advice for entrepreneurs.
"Anything with a startup is a rollercoaster"
For Nick Miller, the CEO of Parking Panda, what his company does is straightforward.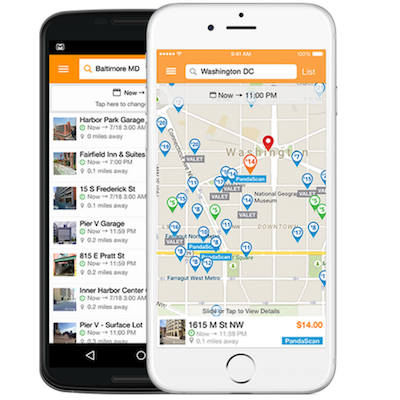 "We allow drivers to go online, or to their mobile phone, to find and reserve parking in advance," he said. "The idea is that you plan everything else in your life: tickets on Ticketmaster, dinners on OpenTable, business meetings in the city but parking is the last thing you do before any of that, but it's the most unknown."
The idea seems simple- the kernel of most great start-ups is- but building a business requires more than the idea.
"The biggest thing when you're just getting something off the ground is recognizing that it's very difficult," Miller said.
Miller adds it gets even more difficult when would-be entrepreneurs have an idea for something that they themselves can't execute.
"People always say they have an idea for an app," he said. "The thing I will say is, you either need to teach yourself to do it- even if you're not great you need to be able to write enough code to build the first version, to get it going- or you need to establish yourself as a part of the community."
Being able to use whatever skills an entrepreneur has to help others and get them in involved in the tech community will get you a long way, Miller noted.
"If you have an idea for an app and you can't build it and also aren't a part of the community, then it gets really hard to get started, to know what to do without that support structure," he said.
The community can offer more than tech help. Miller said a good support structure has been one of the biggest keys to Parking Panda's success.
"I've learned a lot from mentors and people who have done it before," he said. "But I've probably learned even more from people going through the same thing as us."
Learning from others and recognizing the difficulty of launching a startup is one of the  big challenges, Miller said: "Anything with a startup is a rollercoaster, there a lot of highs and a lot of lows."
Miller said he also struggles with what success is and what is means, for companies like his.
"The conception of startups from the outside, people assume that we've raised money and been around for a while, therefore you're successful," he said. "On the flip side, being on the inside, the concept of startup of success is billion-dollar valuations and IPO's and things like that."
But there is a spectrum of success, which Miller said entrepreneurs need to recognize. 
"Stepping back and actually both appreciating what you've accomplished over time, while still maintaining focus on the future- balancing those things is one of the most difficult things to do. As a founder, or even as an employee, you're constantly forward-thinking, so you always think, 'We have so far to go,' so it's hard to appreciate what has happened over the past few years."
Want to hear more from Nick? We're giving away two tickets for tonight's Startup Grind at the Emerging Technology Centers Haven Street. campus.
Fill out the form for a chance to win a ticket for Thursday's Startup Grind talk.
SmartLogic will be picking winners at 3pm Thursday.