More than a dozen people from various backgrounds sit around a table at the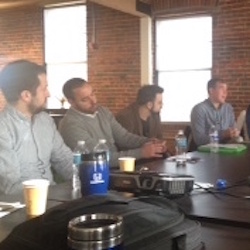 Emerging Technology Center(ETC) talking tech and the community. It's a pretty common sight in Baltimore, but Chris Wink with Technical.ly says it's rarer than you might think.
"These kind of mish-mash groups don't happen as often in other communities and this is something we're excited by," he said. "Like the arts, gaming, entrepreneurship, web
development and software development, those are not seen as cohesive entities in other markets and that's something I'm really excited by in Baltimore."
That mix of people was seen at a Technical.ly Baltimore stakeholder meeting Thursday, where they brought together people from the arts, higher education, civic engagement and technology communities to talk about the state of Baltimore Tech, Baltimore Innovation Week and community growth moving ahead. Wink said in other communities you might not have Stanley Black & Decker and the Greater Baltimore Cultural Alliance at the same table, but in Baltimore you do. Reflecting on the year and looking ahead, SmartLogic's founder Yair Flicker says the interest in technology is seen outside of organized events too.
"I have a lot of friends and they're reading Technical.ly. They're asking me about news, tech news," Flicker said. "People I would not expect to be interested in tech, are. So it seems like that community is growing."
And to help grow that interest, Betamore spent 2014 expanding their education efforts with more classes for people trying to jump into the Baltimore tech community.
"It's a new thing we've launched and we're really, really excited about that," said Mike Brenner, CEO and co-founder of Betamore. "We hope that it spurs more of that conversation in Baltimore and that's been our big stamp on 2014, education, and hopefully 2015."
Helping capture the interest of people outside the tech community is part of the focus of Baltimore Innovation Week. Wink is hoping to grow the event, in its fourth year, this September. With representatives from Loyola University Maryland at Thursday's meeting, Wink wants to draw students to Innovation Week.
"It's an entry point," Wink said. "We now have been able to do those stories of a person who stumbled across innovation week and said, 'Woah what is this?' and then finds his or her way into all of these places. We see it as an entry point in Baltimore."