I recently took a trip to the Middle East (Iran, Oman, and the UAE), where I visited my cousin Jonathan Roberts, who is a Design and Technology teacher at Repton School Dubai, a sister school to Repton School in the United Kingdom. I was really impressed by the amazing workshops and top of the line technology Jonathan's students were using. As soon as I saw this, I was excited to show it to Baltimoreans. From An Estuary to the Baltimore Robotics Center, from the Foundery to the Digital Harbor Foundation, Baltimore's educational technology and maker spaces are burgeoning.
This is just one model for including modern machines, tools and software in an educational setting, but it is an effective and inspiring one. Students at Repton School Dubai design and create their own products—and have all the necessary tools to do so. According to Jonathan, "Most of their subjects are quite academic and rigorous. But this is a practical subject where students get to express their creativity and their innovation and I think they really enjoy it." While the workshops are good preparation for students who want to pursue engineering or architectural design, Jonathan says, "it's all about giving students the best opportunity to be creative and innovative."
If you're interested in learning more about Repton School Dubai's Design and Technology program, Jonathan would love to talk to you at [email protected] or you can Skype him at jonathanwyn.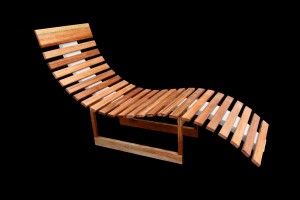 This curved chair was designed and manufactured by IB Design and Technology student Christopher Casey. To see more of Chris' innovative work check out www.dt-24.com, a website that Jonathan and his colleague Elfyn recently founded to showcase students' and schools' work.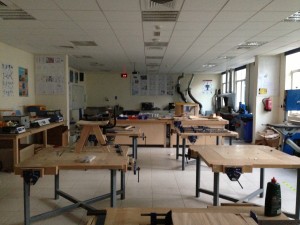 This is the metal workshop. The workshop is divided into two sections, the classroom at the far end and the actual workshop. The shop is lined on both sides with machines for various uses and purposes. Students from age 11 to 18 get to use these workshops.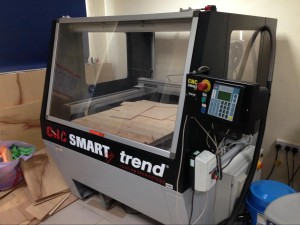 "This is probably our most popular machine," says Jonathan. It's a computer numerically controlled (CNC) router. It's primarily used for students to make furniture projects but can be used for just about anything practical. Students design the projects on CAD software, and send them to this machine, which cuts the projects according to the exact CAD drawing.
Check out all the photos on Facebookto see Repton's amazing hardware.