Hi, my name is Ryan and I am the designer at SmartLogic.  Sometimes when I'm not working on projects for our clients I work on t-shirt designs!  With the fourth annual Baltimore Hackathon just around the corner, we'd like to unveil this year's t-shirt design and take a look back at the shirt designs from previous years.
And without further ado, here is the t-shirt design for Baltimore Hackathon 2015: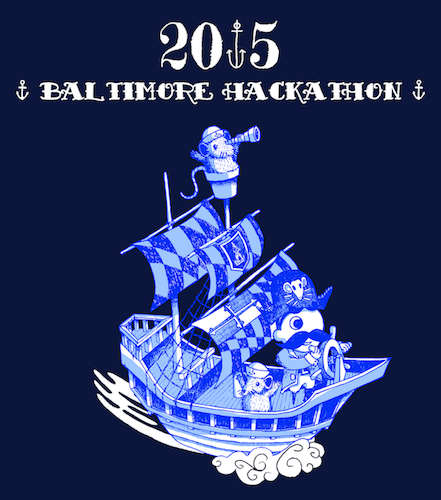 I designed the first Hackathon shirt in 2012. As a tribute to innovation and new ideas, the first Hackathon's website featured many old drawings and plans for inventions.  In keeping with this aesthetic, we decided to take a few extra steps to give the t-shirt design a hand-drawn feeling:
Brainstorming/sketching - In this step I get some ideas on paper and gather feedback.  It's important to keep in mind that the drawing needs to fit nicely on a t-shirt.
Preliminary drawing - Once we've settled on an idea, I get to work on a preliminary drawing.  For this step I work either in pencil or by drawing a basic frame in Illustrator so that I can still make changes.
Finalized drawing - After the team give the thumbs-up, I use a marker to add cross-hatching or stippling.
Production-ready files - Now it's time to scan the drawing and create the file from which the actual screenprints will be made.  In Photoshop I clean up any mistakes I made in the inking process and add a little color.
Each design takes about 30 hours to complete, and I always love seeing how they look printed on the t-shirts.
For the first shirt design, we wanted to draw on the theme of innovation.  2012's t-shirt features everyone's favorite Baltimore icon Mr. Boh as a pilot at the dawn of aviation.

With the second shirt we continued in the same spirit, and this time Mr. Boh is speeding along in an old-timey race car.

After his journeys in the air and on the open road, Mr. Boh is setting sail for 2015's nautically themed Hackathon.

We look forward to seeing you at the 2015 Baltimore Hackathon at the Digital Harbor Foundation!
Keep up with what we're doing and follow SmartLogic on Twitter.