The countdown has begun! With just a month left until ElixirConf 2023, the SmartLogic team can't wait to pack our bags and hop on the plane. As ardent Elixir enthusiasts, we look forward to attending ElixirConf every year as a valuable platform to connect with and learn from fellow Elixirists. This year's line-up of speakers and presentation topics is super exciting (and a couple of us will also be on stage!)
The Elixir community's focus on education allows engineers of all levels to be both teacher and student. Events like ElixirConf are an opportunity to learn from one another, reframe and expand our perspectives, hear about the latest developments and tools, and return to our workstations with a fresh outlook on what we can deliver to our clients.
Why SmartLogic Sponsors ElixirConf
SmartLogic has been a proud sponsor and supporter since ElixirConf 2019. We believe in the collective power of the Elixir community and seek to foster engagement and connection wherever possible. Community participation is a cornerstone of our company philosophy. To nurture the growth of our tech ecosystem, we sponsor local meetups and nationwide conferences and produce the Elixir Wizards podcast.
Reflecting Back on Previous Years
Every year, we learn something new and get reinvigorated by the innovations, ideas, and developments in the Elixir world. The 2021 conference allowed us to reconnect with our peers and share insights. Memorable talks about adoption, machine learning, and testing excited us for the future.
ElixirConf 2022 was transformative, and Chris McCord's keynote presentation on Phoenix LiveView showed us the potential benefits and ease of adopting LiveView for our projects. After that talk, our team was eager to put our new knowledge to the test.
We've seen firsthand how LiveView has simplified our process,  made data communication more efficient, and opened up new classes of applications. The shift to LiveView significantly impacted our work, and this keynote catalyzed our change of perspective.
In the past year, there has been so much growth within our personal knowledge base and developments in the Elixir community. We can't wait to hear the thoughts of our peers this year!
SmartLogic Engineers on Stage
At this year's ElixirConf, SmartLogic Engineers Owen Bickford and Sundi Myint are on the roster! Owen, SmartLogic Senior Developer and co-host of the Elixir Wizards podcast, will present "What's Going On Over There?!," a talk that delves into proactive communication tools we can use to keep customers informed and satisfied.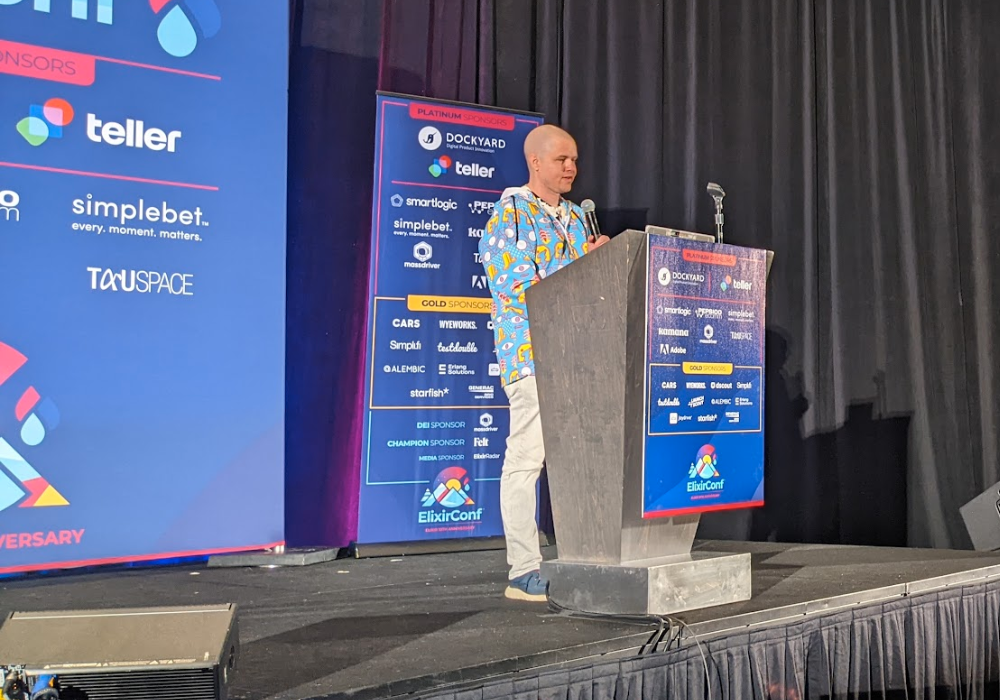 Sundi, SmartLogic Engineering Manager and Elixir Wizard, will present "The Alchemy of Elixir Teams; an Engineering Manager's Tale." In this talk, she will illustrate what she's learned from first-hand experience managing Elixir teams and provide useful tips for effective communication. This talk will allow engineering managers and contributors to gain perspective on team dynamics in the Elixir space.
Talks We're Excited to Attend
There's an all-star schedule of intriguing speakers and talks that we're anticipating:
"A LiveView is a Process" from Jason Stiebs will deepen our understanding of the inner workings of Phoenix LiveView and help streamline development, optimize memory allocation, and utilize built-in asynchronous tools, improving efficiency and application robustness.
Isaac Yonemoto will discuss different ways to store state in the BEAM VM. The concept of "state" often comes up in many different languages and frameworks; it'll be very intriguing to see Isaac take on 11 different ways of storing state in the BEAM.
Of course, we're all hyped to hear José Valim's keynote "Types, but at what cost?" which delves deeper into the development of a type system for Elixir. Last season on Elixir Wizards, we were privileged to discuss this work in our season finale with José, Guillaume Duboc, and Giuseppe Castagna, revealing the challenges and intricacies of developing a type system that supports Elixir idioms while balancing simplicity and pragmatism.
Machine learning and AI are positioned to drastically change the way we work. Sean Moriarity's "MLOps in Elixir: Simplifying traditional MLOps with Elixir" will break down how Elixir can simplify MLOps (machine learning operations).
The Importance of Community Events
Community events like ElixirConf are vital for the growth of the Elixir community. They are learning, networking, and collaboration platforms that enrich our collective understanding and spur innovation. These gatherings foster a sense of unity and drive us to push boundaries, find new solutions, and further develop the Elixir ecosystem.
Preparing for ElixirConf 2023
Our preparations are in full swing as we gear up for ElixirConf 2023. We're polishing our presentations, booking flights, and looking forward to the talks. As always, we aim to learn, share knowledge, and form meaningful connections with the community. We can't wait to see you there!
What are you looking forward to at ElixirConf 2023? If you still need to register, you can sign up for ElixirConf 2023 here.