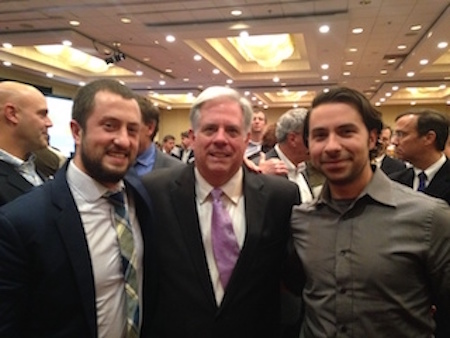 (SmartLogic's Yair Flicker and Brian Sierakowski with Md.'s Gov.-Elect Larry Hogan)
"Maryland is home to many growing companies that are changing the business landscape, and this event brought together entrepreneurs and business leaders to learn about entrepreneurial resources," said TEDCO president Rob Rosenbaum at the Maryland Entrepreneur Expo Wednesday.
It wasn't just entrepreneurs and other members of the state's growing tech community at the expo: Governor Larry Hogan stopped by the event. Hogan didn't make any specific announcements about how the technology community will play into how he leads the state but did say it's high on his radar when he takes office this January.
"I want you to know that you're going to have a friend in the governor's mansion," he said.  "You'll have an open door. You're going to be a priority for us, it's something we're gonna focus on like a laser beam."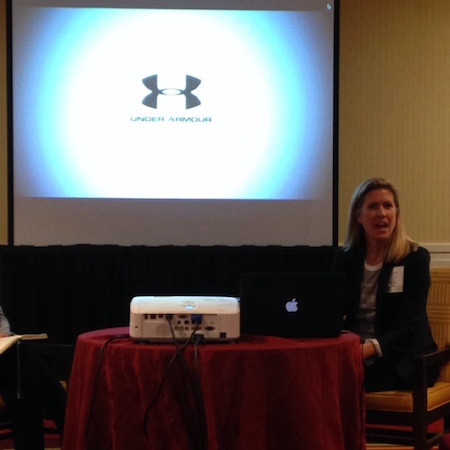 (Heidi Sandreuter, Under Armour)
Fireside Chat with Heidi Sandreuter
Heidi Sandreuter, VP of Women's Marketing at UnderArmour, had one of the more crowded sessions. Under Armour may be a giant company but her points on a successful marketing campaign can be applied to an organization of any size. The company's recent, "I Will What I Want" campaign touched on three important markers of what she calls effective marketing.
Break out of sea of sameness : Sandreuter said when Under Armour began selling women's clothing all they did was "shrink it and pink it" but now they're trying to speak to their customers—in this case women—on a higher level.

Know your target : This is where good market research comes in. Sandreuter said most men who buy Under Armour can identify and connect with the male athletes in advertisements. For women it's a different story. She said four out of five women don't consider themselves athletes so while they appreciate seeing a female athlete in an ad, the ad does not speak strongly to them. That is where the Gisele Bundchen "I Will What I Want" ad comes in. Gisele isn't considered an athlete but she is considered athletic, Sandreuter said.

Identify : Sandreuter said the ad featuring ballet dancer Misty Copeland being told she wasn't good enough for ballet and couldn't do ballet taps into the part of every woman told she can't do something. She said good marketing is something we can all identify with.
Other Memorable Panelists
Andrew Schuster from our client NewsUp echoed the importance of having your development team know your customer base. At the "How To Conduct Research and Not Spend Tons of Money" panel, Schuster said his previous work in newspapers helped him conduct market research for NewsUp. "I learned a ton about the woes and trends of the industry during my time at The Baltimore Sun, much of which corroborated my personal research, which ultimately helped drive our product development," he said. He added that no amount of advertising can ensure product success, especially if you don't know the needs of your audience. 
"User validation, and ultimately product/market fit can be accomplished for any product as long as there's a conscious effort to understand and iterate around the end user's needs.  Once there's a clear demand, advertising can be the fuel to the fire."