Last week SmartLogic sponsored the hybrid ElixirConf in Austin, TX and was able to send some of our team there in person, as well as attending virtually. Our team loves working in Elixir, and we are proud to be a part of this community and enjoyed seeing our friends and colleagues after a long hiatus of in-person events. With 72 talks across the week, we were inundated with all things Elixir. Check out some of our favorite talks and moments below.
Live in Austin
Miki's talk addressed the personal complications behind and beyond the technical and gave us tips for how to move constructively toward any changes, whether in process, language, or team structure.
Futurism, a call back to a more decentralized internet, and Walmart's "Area 71" datacenters make up just a few of the topics that Brooklyn touched on in her fascinating Keynote talk.
Vanessa's educational talk was on training a Machine Learning model to understand different author name formats.
Digit's talk struck us all with sheer delight! It was the perfect arrangement of incredibly thoughtful content and absolutely hilarious ingenuity. By taking us through the building blocks of how he approached building a game inspired by his favorite game, Final Fantasy 9, he was able to show people how to think in Elixir, rather than just showing us how to do something. And he did it with the COOLEST original art and animations that his partner made.
SmartLogic developer Sundi Myint presented on best practices on utilizing Mox - a testing library in Elixir - to make your tests as accurate as they can be in a mock environment.
Todd gave an informative and entertaining talk on optimization tactics with Postgres, including a running bit on NFT's and a mystery vintage office machine.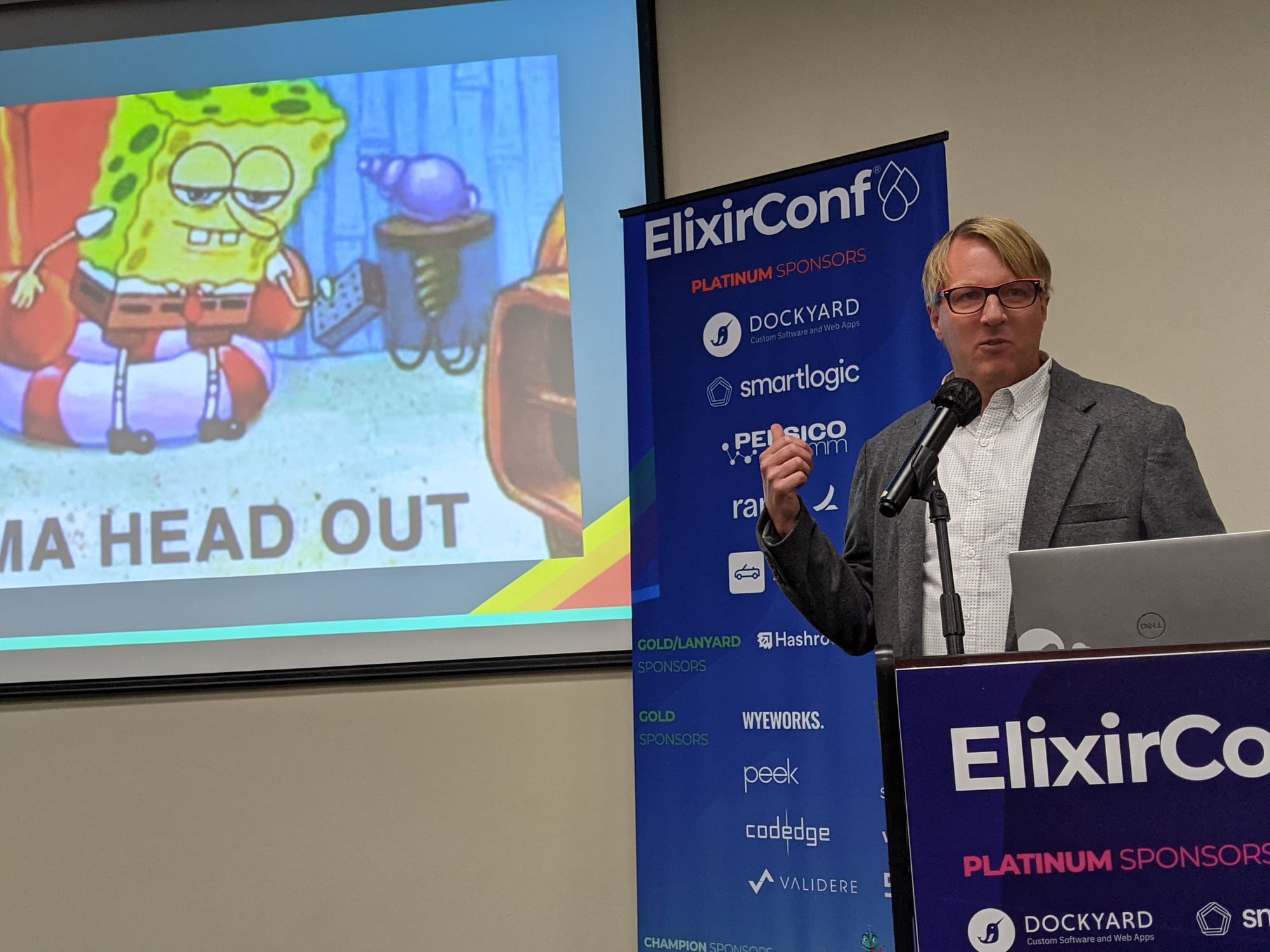 We all watched Amos patiently navigate flight delay after flight delay on Twitter with great anxiety. (Award for "longest" commute goes to…?) But he made it to the conference safe and sound and gave a lovely, energetic talk with some practical testing advice. Thanks for braving the airways, Amos!
Virtual Highlights
Nicholas warmed up our minds by presenting multiple iterations of solving a problem.
Phoenix presence, live x-device map updates, geolocation via android, apple watch, apple phone, desktop web browser, and mobile browser, Oh my! The SmartLogic team was fascinated by the use of LiveView in this talk. They had built 5 different platform clients to talk to their phoenix app and did a live demo. Highly recommended!
Tyler walked us through a number of implementations of a basic power grid management system and the costs and benefits of various decisions there. Lots of programming concept discussion made this talk extra noteworthy!
SmartLogic developer Stephanie Vizzi reprised her presentation on Ecto Multis, including all the parts and pieces from uses to structure and commonly used functions.
⚡️ Lightning Talks
On the first day of the conference, SmartLogic developer Sundi Myint hosted Lightning Talks with Amos King and Sigu Magwa. Ten presenters signed up to give quick, informal, timed 5-minute presentations. A couple of our favorites from this year's lightning talks include Sophie DeBenedetto's talk about the History of Pasta, and Andrew Glassman's talk on how he developed a proof of concept chess game with Elixir!
Tabling
We hosted our own table this year, complete with SmartLogic swag. A popular addition to our swag this year was our pet stickers: The Elixir Wizards hosts had their pets turned into art! Eric Oestrich's rooster Doug McKenzie, Alex Housand's dog Bean, and Sundi Myint's cat Marble all found new homes.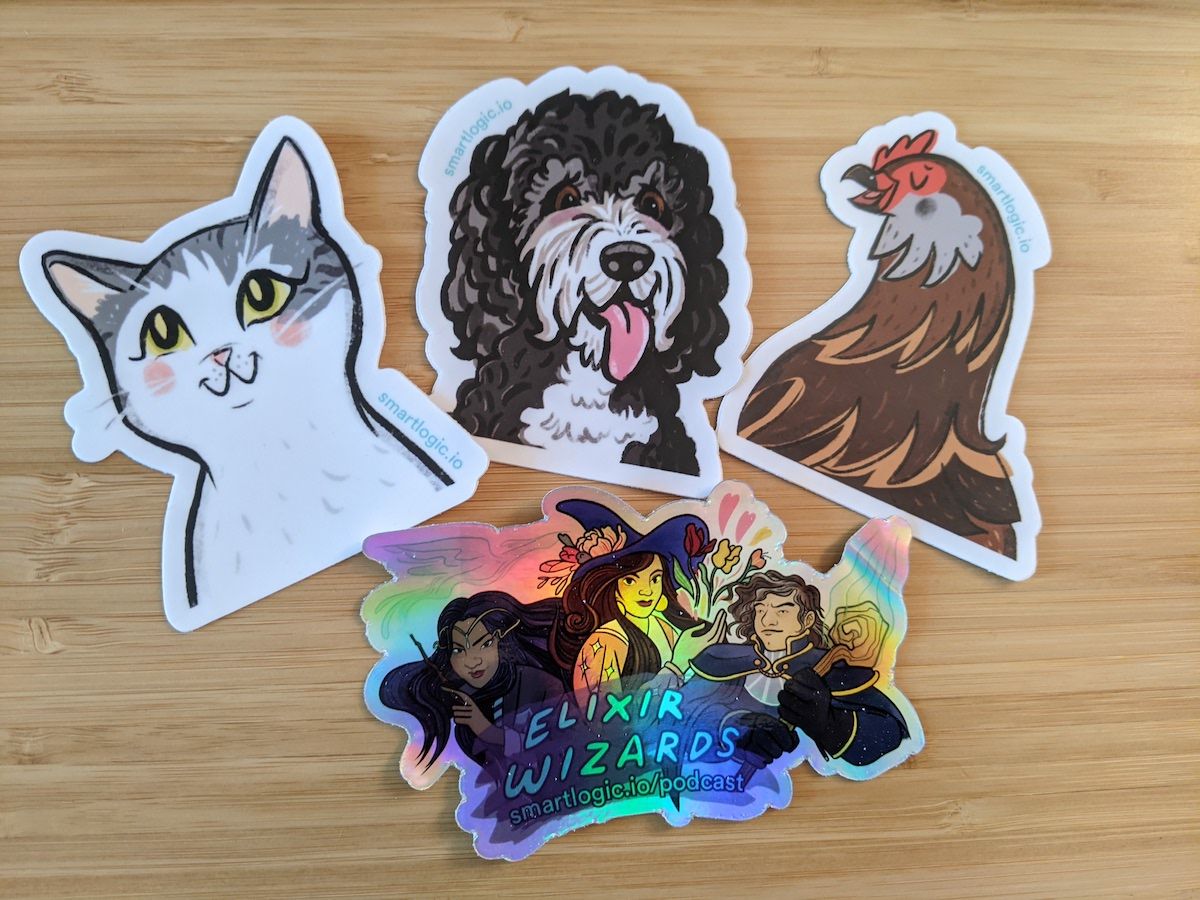 Social Hour
Being back in person meant that we could, well, be back in person! SmartLogic hosted a small after party at Austin's cool backyard bar Lustre Pearl East where we were able to sit down, have a drink or two, and relax with our friends in the community.
And last but not least, it wouldn't be an Austin ElixirConf without… TACOS!
We look forward to seeing everyone again next year. In the meantime, keep up with all things Elixir with Season 7 of the Elixir Wizards Podcast, dropping Thursday November 4th with hosts Alex Housand, Eric Oestrich, and Sundi Myint!