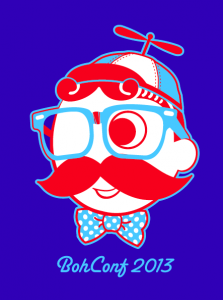 Thirsty for some Nerdy Boh? SmartLogic is organizing BohConf as a standalone conference this year: mark your calendars and buy tickets for Friday July 19th at the University of Baltimore. If you've been to BohConf before, you'll be seeing something a little different. Instead of focusing on just Ruby on Rails, we're widening the scope. If you're interested in the latest technologies and best practices for web and mobile application development and design, you should attend and/or speak. We're planning a jam-packed schedule, with content for both super technical people and those who prefer a wider lens.
We're still seeking speakers, and we want first-timers and veterans alike to talk. Submit your proposal for a 60 minute guided exploration or 20 minute talk here by July 1st. Or you can just buy tickets for the full day and/or BohConf Ignite the night before.
Why should you come? There are many reasons, but here are a few reasons why I'm excited:
Opportunities to interact with smart people. I'm watching the attendees and talk proposals come in. We're bringing in some intelligent, accomplished, and interesting people. I'm looking forward to spending all day at BohConf learning from them.
Opportunities to network with new people. Sometimes tech events are full of the same exact people every time. This is not the case for BohConf. Though I do know some of the people who are submitting talks and buying tickets, most of the names are new to me. It's cool to see people who haven't been around to every event in town coming out. They'll have different perspectives than what I'm getting from people I already know: this isn't going to be your Cheers of Baltimore crowd. Bringing in new people as attendees and as speakers is a huge goal for BohConf—so far, we're accomplishing it.
The extensive, varied schedule. I'm in the "Twitter generation," and my attention span is short. So it's awesome that BohConf has a lot going on and short sessions. If I start to get distracted, I can pop around to a different track. But there will be a few talks that I'll be glued to, because they will directly help me do what I do. We've got enough going on that there should be talks like this for everyone. You'll find something interesting no matter what. And you won't be stuck somewhere that's boring to you.
What are you looking forward to about BohConf? Tweet it on #BohConf.
For updates on BohConf, follow @BohConf.
Learn more about BohConf and check out a list of links from the conference.