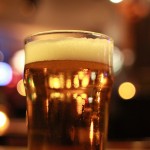 It's not surprising that at an event like RailsConf, people will engage in some professional networking. However, that doesn't necessarily mean talking shop, and with four days of conference, some of us might need a break. After the second day of RailsConf, I was intent on avoiding shop talk as much as possible—at least while I was at the after parties.
In fact, I set the (unrealistic) goal of avoiding tech talk altogether. Of course, I failed—I was at RailsConf after all, and many, if not most, of the people there were excited about something related to their work. But there were many people with whom I didn't share any particular business-related enthusiasm. The conscious decision to focus my discussion outside of work made it easier for me to have conversations with these people.
It's natural to want to have some common ground, some common experience, when interacting with others. Having something in common makes it easy to relate; when you're speaking, you have some confidence the other person cares, and when you're listening, it's easier to follow. But when meeting new people, it's not clear that you have any interests in common (technical, or otherwise).
Why I Didn't Want to Talk About Rails Development
At RailsConf, it was likely I would have some common experience with Rails with any of the other guests. But, if you're like me, you get tired of answering questions like "What version of Rails do you guys use?" Starting a conversation about work when you're in town for a conference also sets a precedent for the rest of the conversation. To me, it indicates professional motives (to some extent, anyway), and therefore sets up some pressure: I would be interacting with another person as a professional. Not that I have any doubts about myself as a professional, but I wasn't interested in this sort of pressure at an after party.
So, the things keeping me from being social were that:
I didn't feel like talking about (or listening to people talk about) Rails, or work in general, really, after a full day of conference
I didn't know what else to talk about that we would have in common
Talking About... Not Rails
My solution: start conversations about the city. It might sound weird to have a prescribed process when interacting with others, but as with any situation where you have a problem, and want a repeatable solution, having a well-defined procedure is the natural course to take (we're all programmers here, right?). Given that this was a big conference, I figured most of the people I would encounter were also from out of town, and we therefore would have in common the experience of traveling. I used open ended queries about places to eat, and general impressions of the city, and the conversations would proceed organically from there.
Why I'm Glad I Changed It Up
Breaking the ice with a topic somewhat removed from the conference, and work life, made the resulting conversations more varied, and, to me, more interesting. In some cases, I would hear about other places I had never visited, as we talked about the contrast or similarity between Portland and our hometowns. I met a couple people who were also from, or currently worked in Baltimore, or Maryland. And I met others who were further from home than myself: Mexico, Germany, Austria, Australia.
I learned from some people the story of how they started programming, or found their current job. One person mentioned that he knew about SmartLogic from past years at RailsConf, and that he found BohConf really valuable for his team and wish it had come back for 2013 (follow @smartlogic for updates on how that may actually be happening). In the end, just chillin' with people from all over the place was a nice way to unwind after up to eight hours of professional development.
In spite of that, there were plenty of opportunities to network, since in most cases, the subject of our jobs would come up. We would exchange cards, and I would tell them that I'm a developer at SmartLogic Solutions, and that we're a web and mobile application consultancy that does work with Rails, Android, and iOS. I got to mention to a few people how nice it is to work here because of our process, and the quality of the people I work with.
I assume that if they were interested in hearing more, they would have asked, but that really wasn't the point, for me. My goal was just to meet new people, not to promote the business. Making a point of shifting my focus away from work after the conference had ended made it much easier (for me, anyway) to talk to a lot of people, and have many conversations that I would not have had otherwise. As a result, I engaged people face to face—who happen to work in the same industry as I do—and I know more about them than how they go about their work. I think that's pretty cool, and I'm happy to have had the opportunity.
Check out our other articles on RailsConf:
__