For those of you in the Baltimore area, we hope to see you soon at one of the newer meetups in town, Baltimore Lean Startup.
SmartLogic is more than happy to help support our community, and a big part of that is getting involved with tech meetups in Baltimore. We already sponsor several meetup groups, and when we heard about Baltimore Lean Startup, we jumped in as the inaugural sponsor.
Baltimore Lean Startup's mission jives with our emphasis on a simple, agile process: the group, as stated on their Meetup description, aims to help people "be more innovative, stop wasting people's time, and be more successful." Sounds good to me!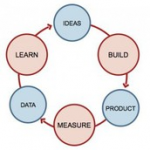 I'll be giving a short talk as part of next week's meetup, making it a perfect time to kill two birds with one stone: you can come check out the group and hang out with me. The focus is on "Tools of the Trade." As one of four speakers, I'll be covering the tools that help SmartLogic save time and money as we develop applications.
The meetup is on Tuesday, July 24th at 6:30 pm in Towson. Pop over to the meetup's site to register and see location details. Though this group is such a big hit you may have to hang on the waiting list.
We love seeing the Baltimore Tech Community grow, check out how we're tracking the growth.